back to overview
Real men talk - Internet portal for professionals released
10. September 2021
The SKM Bundesverband has launched a page for professionals. It offers boys' and men's counsellors current and extended information, background information and further training. The information is thus very clear and easily accessible.
The SKM's own newsletter on issues related to work with boys and men is also distributed from here. The highlight of the site is an absolutely convincing image film.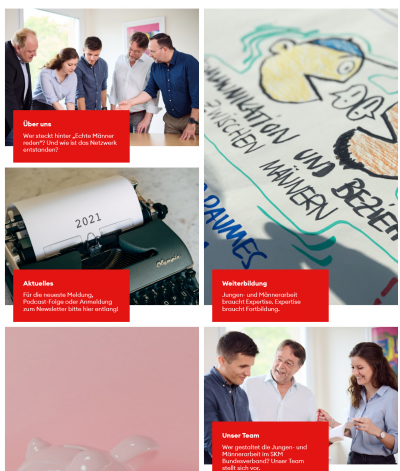 The page for social workers complements the recently renewed portal Echte Männer Reden (Real Men Talk). There, boys* and men* in need of counselling can find individual contact persons – anonymous, low-threshold and free of charge.
The associated Online and Chat platform of Caritas, which provides boys* and men* with easy access and professional help with concerns and problems, has also recently gone online.
The SKM Bundesverband also operates two men's shelters in Cologne and Düsseldorf in NRW, in case refuge from or distance from relationships is needed.
The Federal Coordination Office for the Protection of Male Victims of Violence (Bundesfach- und Koordinierungsstelle Männergewaltschutz) finds: These are great steps towards expanding professional counselling for boys* and men*. Congratulations on an increasingly clear overall picture!
* We respect gender and sexual diversity.
---